Rolissa would like to thank everyone for their Get Well wishes.
Your kind thoughts were greatly appreciated.
***************************************************************************************

Best of Long Island voting begins on October 1st
http://bestof.longislandpress.com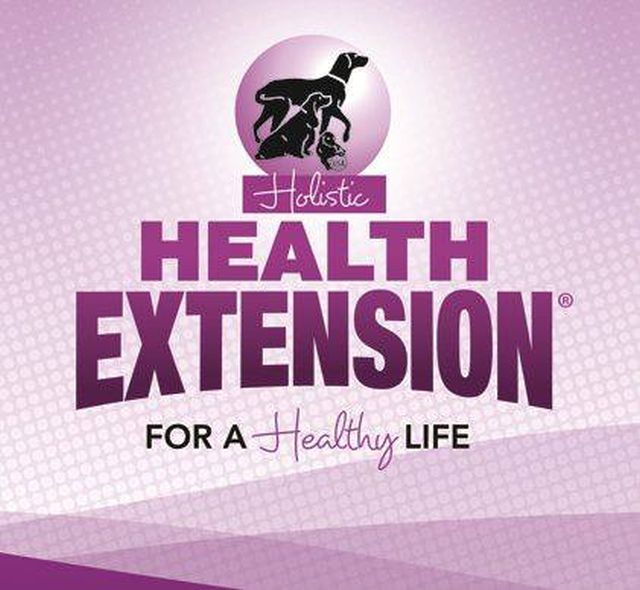 *****Doggie U on TV and in the Newspapers*****
Rolissa and Ginny were on News 12 Long Island, the local cable show
Animal Island, Thursday evening September 6, 2012
They were talking about breed shows and conformation training
Classes in breed handling at Doggie U, Errol, the Papillon was the canine participant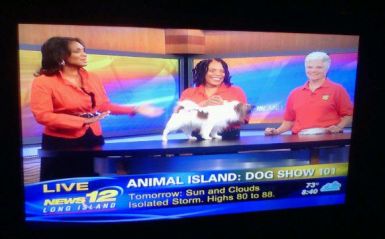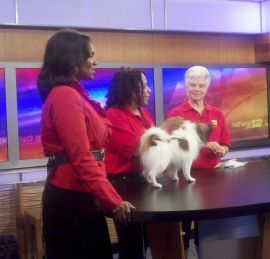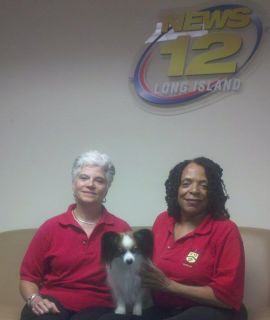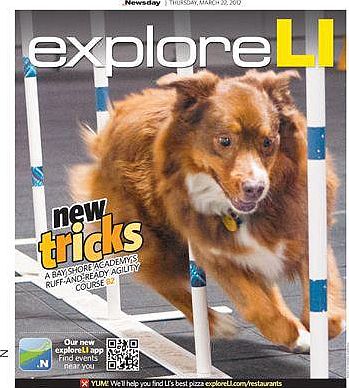 Here is the Link to the HUGE article in Newsday,
Here is the link to the video of it: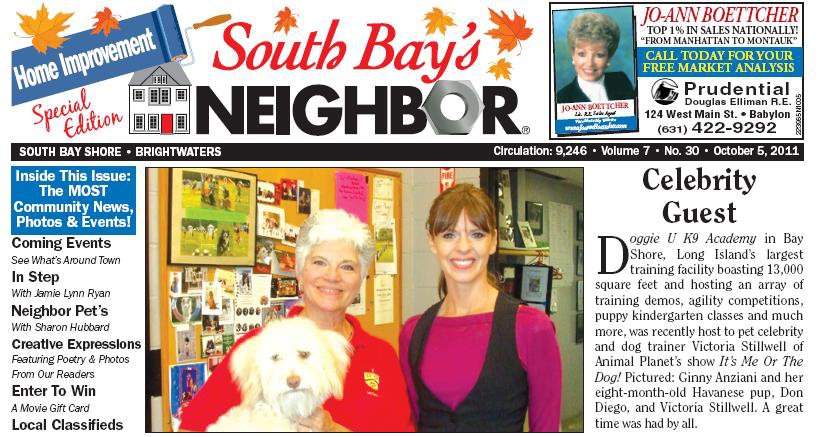 Victoria recently came back to Doggie U to film her show, Ginny and her boy Diego took a photo with her on that day.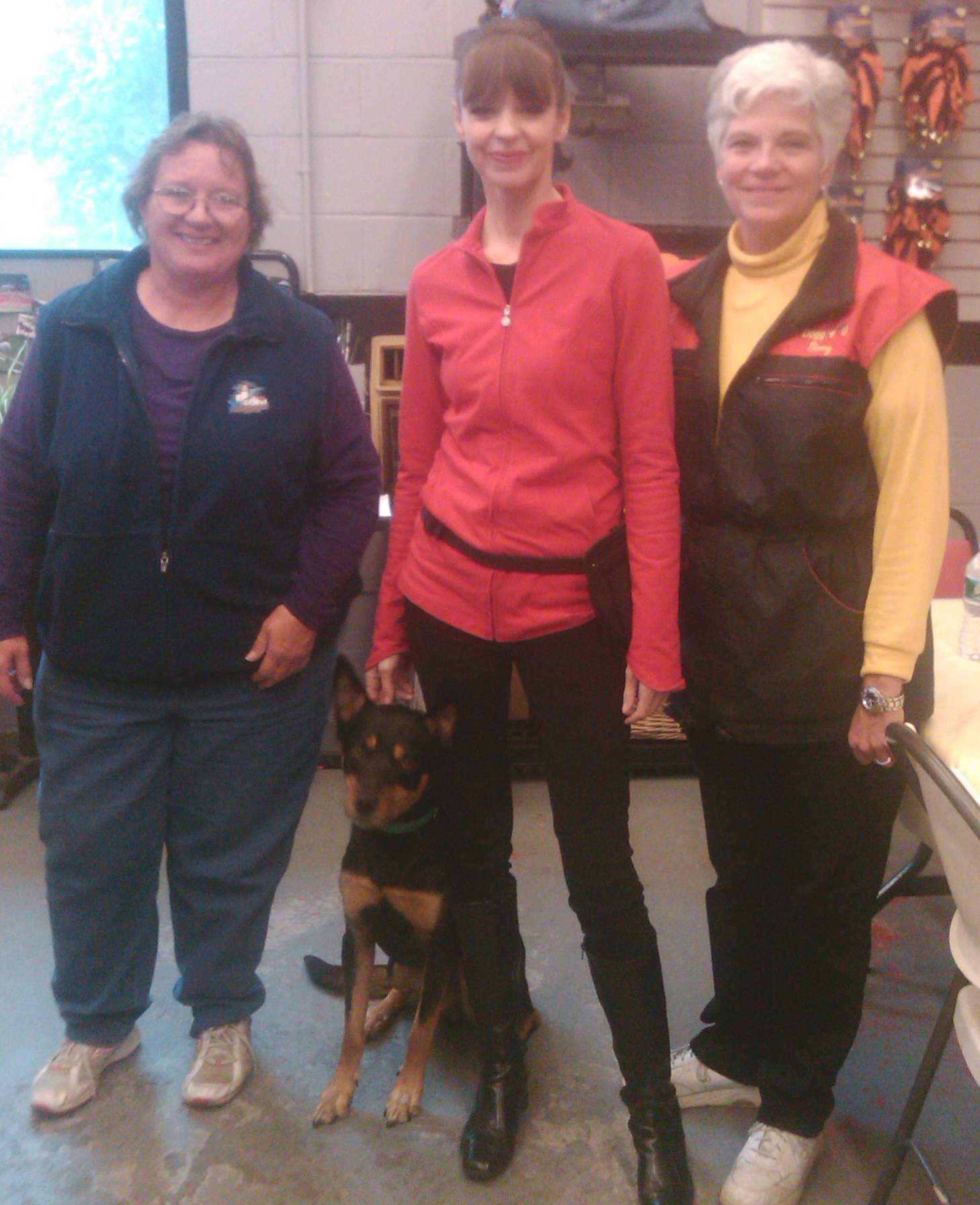 Victoria Stillwell of Animal Planet's show It's Me Or The Dog, came to Doggie U to film a few episodes. This photo is from the most recent one, with the brown bull terrier, Dakota. Kane and Louise did an agility demo for the episode. In this photo left to right, Louise, Kane, Victoria and Ginny.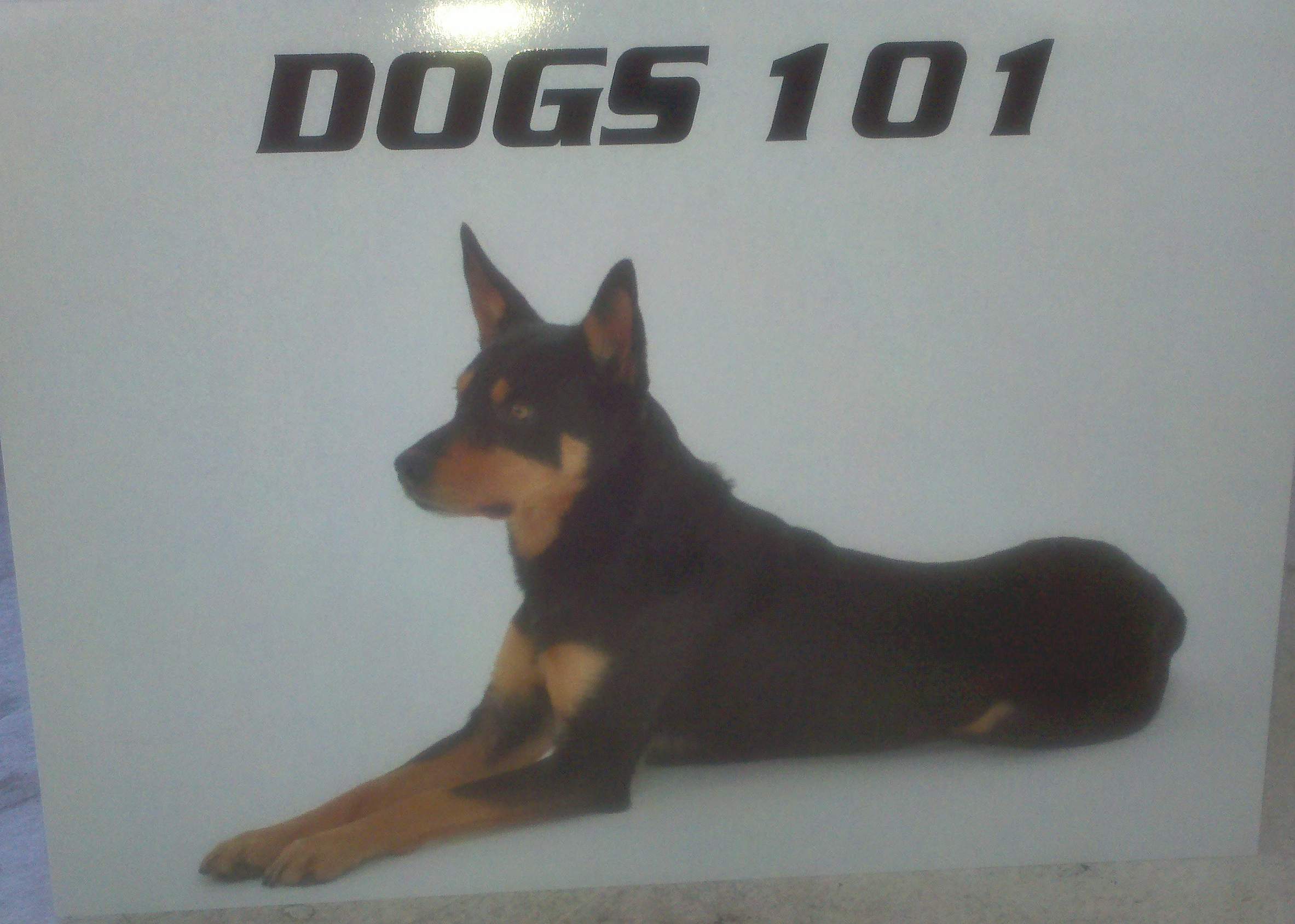 And Kane will be featured on an upcoming episode of Animal Planet's show, Dogs 101, about Australian Kelpies.
Doggie U TV Commercial. Click here to view the video!!!!! Perhaps you and your dog will be on the screen!
Doggie U is a state of the art Canine Training Facility for Long Island 13,000 sq ft, fully matted facility with anti-grip and impact footing matting, see our facility photos page.
We offer classes in: Puppy Kindergarten, Puppy Agility, Pet Obedience, Competition Obedience, Breed Handling, and Rally classes are on our Training Class page Agility Class Schedule page,
Our instructors are well experienced in their fields and enjoy working with all people and dogs.
See our instructor bio page.
Dog showing and training events are always on-going at our facility. We offer agility, obedience, rally and conformation match shows. CGC and TDI tests are periodically scheduled. We also have informational seminars on training, behavior and many other dog related subjects. Doggie U is providing a full slate of events for you and your dog no matter what your focus is. See the Upcoming Events page for info on these events.
Rental Space available on a daily, weekly, monthly or special event basis to clubs, trainers, students or individuals see Ring Rental page.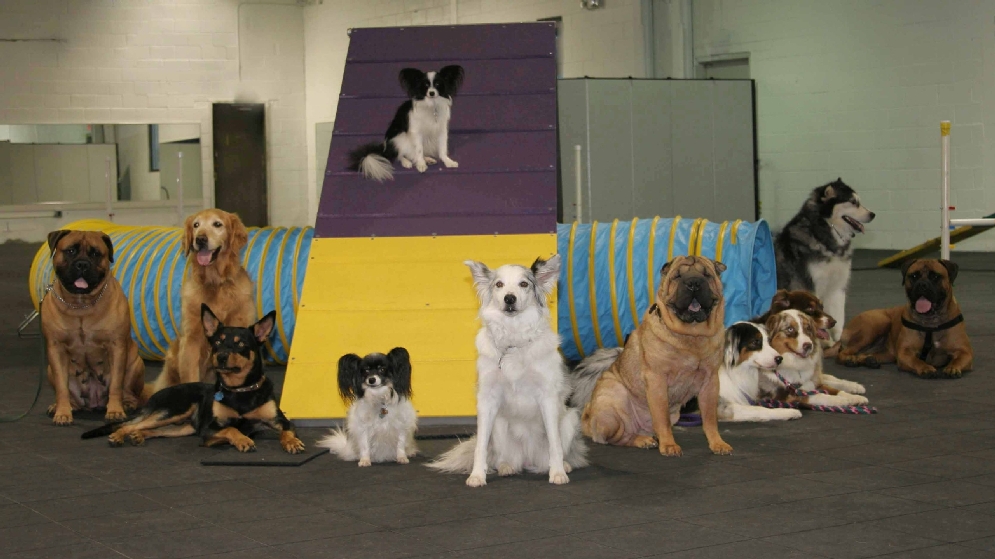 Discounted Dog Food and Supplies are sold in our store. We have Vets Choice food, dry and canned, raw dog food, supplements, treats, training supplies, collars, leashes for sale. Visit our Store Page for more information.
Grooming is currently not available. Check for Groomer availability in the future.
Space Available for Shows, Special Events, Match Shows and Doggie Parties. Our facility is also available for non-doggy events. Facility main room is 100x75 with no poles, no obstructions on a rubber matted floor. Back training room is 60x50 feet with not obstructions. Call Doggie U for more information
631-968-7972.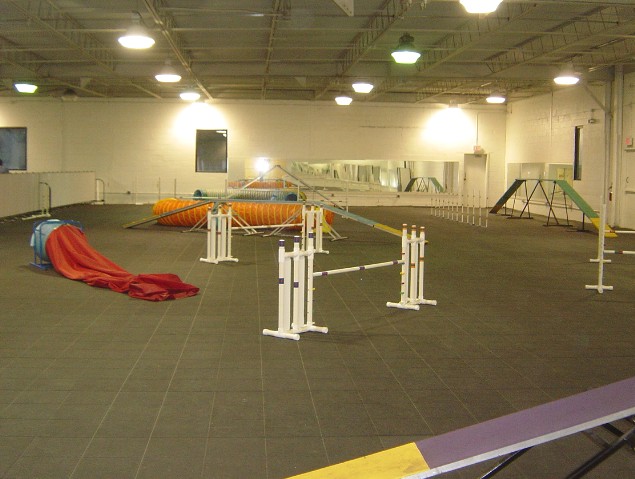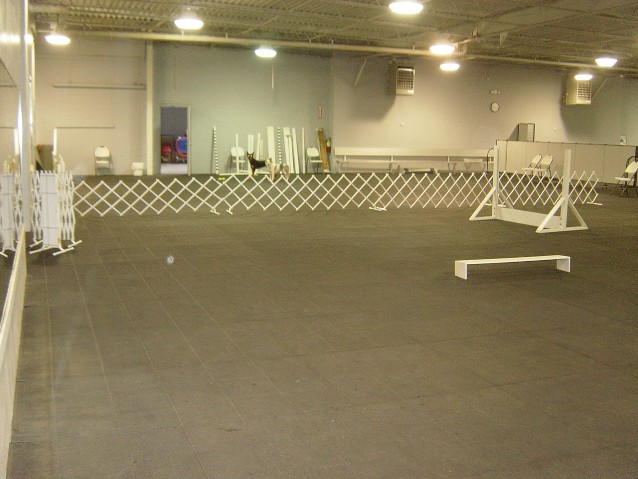 Click here for more photos of our facility!
---
Directions:

From New York City: Southern State Pkwy to exit 40 – Robert Moses Causeway South.
Go to Sunrise Hwy (Route 27) East. Take Route 27 to exit 44 (Brentwood/Saxon Ave).
Stay on service road to Saxon Ave and make a right.
*Go approximately 1 mile and cross the Railroad tracks – make your second right into the parking lot.
From Riverhead: Sunrise Highway to exit 45. Left on Saxon, go under Sunrise Highway and follow directions above*.
Doggie "U" entrance is towards the rear of the building on the left.
Upcoming Training News and Events

February 1, 2014
Saturday
Beginner Novice and Novice Obedience Match

February 2, 2014
Sunday
Open and Utility Obedience Match

February 6-8, 2014
Thursday-Saturday
Long Island Golden Retriever Specialty Show
February 9, 2014
Sunday
SOTC Obedience Trial

---
March 9, 2014
Sunday
LI Bulldog Match Show
March 23, 2014
Sunday
Doggie U 3rd Annual
Black Tie For Paws Benefit
For more information on any of these
events click here for our
Upcoming Events Page
---
New Classes at Doggie U
Rolissa is back teaching Breed Handling
Tuesday at 8:30pm and
Thursday's 8:30 Handling class by appointment
call 631-968-7972
---
Interested in doing CGC or/and TDI test?
CGC/TDI Class and Test
Call us to find out when the 2014
Class & Test will be scheduled
631-968-7972
And get your name on the list!
---
Check out the
2nd Annual Black Tie for Paws Benefit
Saturday, March 23, 2013
from 6:00pm- Midnight



Click on the logo to go to the page for the event
---
Doggie "U" K9 Academy
41 Saxon Avenue
Bay Shore NY 11706
For more info call: 631-968-7972 E-mail: DoggieUK9Academy@aol.com
Upcoming Agility News and Events

December 13-15, 2013
CPE Agility Trial
Closing Date for Trial Entries
December 3, Tuesday

---
Wednesday January 1, 2014
New Year's Day Agility Match
Big dog entries are closed
Sunday January 19, 2014
Teacup Agility Trial

January 25 & 26, 2014
Doggie U CPE Agility Trial
---
February 23, 2014
Sunday
Diane Goodspeed Agility Seminars

---
March 15-16, 2014
Saturday and Sunday
Doggie U Teacup Agility Trial

---
May 3-4, 2014
Saturday and Sunday
Amanda Shyne Agility Seminars
For more information on any of
these events click here for our
Upcoming Events Page
---
New Agility Classes at Doggie U
Beginner Agility classes
Friday 11am
call 631-968-7972
Sunday Morning
Drop in Beginner agility classes
11:00 am
Upcoming Class dates: 12/22, 1/12,
2/1 (Saturday)
$15 per dog
Sunday Morning
Drop in Advanced Agility classes
1:00pm
Upcoming Class dates: 12/22, 1/12,
2/1 (Saturday)
$15 per dog