Our Phone Number 631-968-7972
****Effective January 1st, all rentals must be booked 3 days before
with payment and NO refunds if canceled***
Call Doggie U 631-968-7972 to book your time and pay with a credit card
---
A few of the Doggie U members that excel in CPE Agility!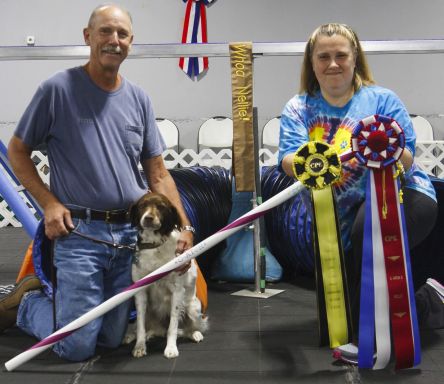 Art Weisser and Nellie, got their C-ATCH #3 at the DACLI
Agility Trial held at Doggie U, July 2014
Judge Lisa Lucius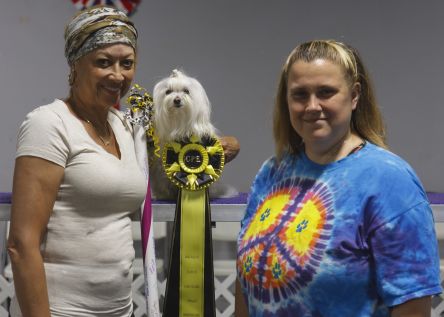 Yolando Russel and Bitsy achieved their C-ATCH at the DACLI trial also
Judge Lisa Lucius
---
Doggie U Obedience Instructor Deb Masino and her Pom, Bounce
High in Trial May 18, 2014 at the DACLI Trial held at Doggie U, judge James Ham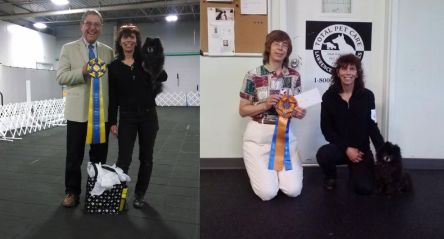 A few weeks later, they were High in Trial and High Combined at the
Riverhead Kennel Club Obedience Trial, judge Ellen Adomelis
---

A big thank you to all of the competitors at the December 2013 Doggie U
CPE Agility Trial for your generous donations to the Town of Babylon
Animal Shelter in honor of Clancy. — with Ginny Anziani.


Thank you all for voting!

Rolissa would like to thank everyone for their Get Well wishes.
Your kind thoughts were greatly appreciated.
---
Doggie U TV Commercial. Click here to view the video!!!!!
Perhaps you and your dog will be on the screen!
---
Doggie U is a state of the art Canine Training Facility for Long Island 13,000 sq ft,
fully matted facility with anti-grip and impact footing matting, see our facility photos page.
We offer classes in: Puppy Kindergarten, Puppy Agility, Pet Obedience,
Competition Obedience, Breed Handling, and Rally classes are on our
Training Class page Agility Class Schedule page,
Our instructors are well experienced in their fields and enjoy working with all
people and dogs.
See our instructor bio page.
Dog showing and training events are always on-going at our facility.
We offer agility, obedience, rally and conformation match shows. CGC and TDI tests are periodically scheduled. We also have informational seminars on training, behavior
and many other dog related subjects. Doggie U is providing a full slate of events
for you and your dog no matter what your focus is. See the Upcoming Events page
for info on these events.
Rental Space available on a daily, weekly, monthly or special event basis to clubs,
trainers, students or individuals see Ring Rental page.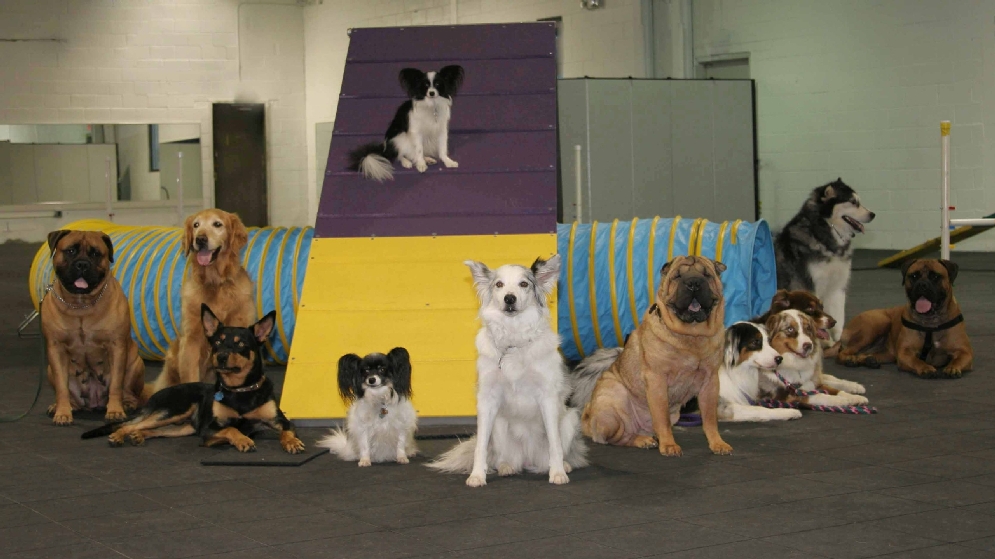 Discounted Dog Food and Supplies are sold in
our store. We have Vets Choice food, dry and
canned, supplements, treats, training supplies,
collars, leashes for sale.
Visit our Store Page for more information.
Grooming is currently not available.
Check for Groomer availability in the future.
Space Available for Shows, Special Events,
Match Shows and Doggie Parties. Our facility is also available for non-doggy events.
Facility main room is 100x75 with no poles, no obstructions on a rubber
matted floor. Back training room is 60x50 feet with not obstructions.
Call Doggie U for more information
631-968-7972.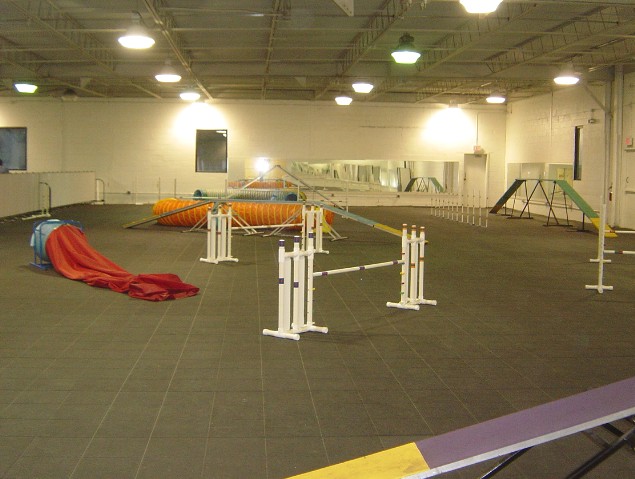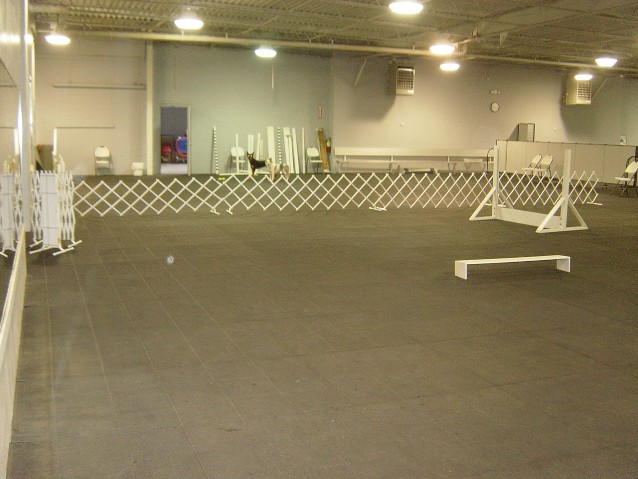 Click here for more photos of our facility!
---
Directions:

From New York City: Southern State Pkwy to exit 40 –
Robert Moses Causeway South.
Go to Sunrise Hwy (Route 27) East. Take Route 27 to exit 44
(Brentwood/Saxon Ave).
Stay on service road to Saxon Ave and make a right.
*Go approximately 1 mile and cross the Railroad tracks –
make your second right into the
parking lot.
From Riverhead: Sunrise Highway to exit 45. Left on Saxon,
go under Sunrise Highway
and follow directions above*.
Doggie "U" entrance is towards the rear of the building on the left.
Upcoming Training News, Classes and Events
August 10, 2014
Sunday
Doggie U Obedience Match

---
September 14, 2104
Sunday
Doggie U Obedience Match
---
September 21, 2014
Sunday
Doggie U Breed Match
---
November 23, 2014
Sunday
Doggie U Obedience Match
For more information on any of these events on
Upcoming Events Page
click here
---
December 6, 2014
Saturday
Karen Profenna Tricks Seminar
---
Puppy Manners Classes
Tuesday afternoon 2:00pm
starts 7/8/14

---
Breed Handling
Tuesday at 7:45pm

Thursday's 8:15 Breed Handling class is By Appointment Only
call 631-968-7972
---
Advanced Obedience / Rally
Tuesday afternoon 1pm
begins June 23
Special Daytime Rates
$120 for six weeks
call for info 631-968-7972
Rally Run Thrus
Tuesday 2-4 pm
Starting May 6
$10 per run

Rally Run Thrus
Saturday
11:15am - 1:15pm
No Run Thrus On the following dates:
June 14 & 21, July 5 & 12,
August entire month
Sept. 13 & 27,m Oct. 4, 11 & 25
Nov.1, Dec. 13 & 17
3 Nested Courses
$10 per run
Call for more information
631-968-7972
---
Interested in doing CGC or/and TDI test?
CGC/TDI Class and Test

631-968-7972
And get your name on the list!
---
Doggie "U" K9 Academy
41 Saxon Avenue
Bay Shore NY 11706
For more info call: 631-968-7972 E-mail: information@doggieuk9.com
Upcoming Agility News, Classes and Events
Agility Skills Class
Wednesday 11:30am
Session began May 21, 2014
Beginner Agility classes
Friday 11am
call 631-968-7972
Sunday Morning
Drop in Beginner 11am & Advanced 1:00pm classes
Upcoming Class dates:
Jun 8, 15, 29
Jul 6, 20, 27
$15 per dog
---
August 3, 2014
Sunday
Doggie U Teacup Agility Trial
download premium here
---
August 16 & 17, 2014
SOTC CPE Agility Trial
---
September 1, 2014
Monday
Labor Day Agility Match
---
October 9-12, 2104
Thursday-Sunday
Stacy Peardot-Goudy Agility Seminars
---
October 24, 25 & 26, 2014
Friday-Sunday
Doggie U CPE Trial
---
November 1, 2014
Saturday
Diane Goodspeed
Beginner and Novice/Open Seminars
Novice/Open is FILLED
---
November 16, 2014
Sunday
Doggie U Teacup Trial
---
December 7, 2014
Sunday
Doggie U Teacup Trial
---
December 12, 13 & 14, 2014
Friday-Sunday
Doggie U CPE Trial
For more information on any of these events on
Upcoming Events Page
click here
---