Best of Long Island 2015
Vote for Doggie U as the Best Dog Trainer
Click here for the link to voting
---
Weight Pulling Events Coming Up at Doggie U
January 31, 2014 Strong Island Fun Pull
February 21& 22, 2015 IWPA Sanctioned Weight Pull
March 21& 22, 2015 IWPA Sanctioned Wedight Pull
More Information on these events is on our

Wednesday evening Weight Pulling Classes
6:30pm under 12 months and small dogs
7:30pm dogs over 12 months and large dogs
Information on these classes is on the Training Class page
Open to big and small dogs, all breeds, no experience necessary
---
Breed Handling
Tuesday at 7:45pm
Begins October 21, 2014
---
Tuesday October 14, 2014 Hooray!!!!!!!!!!!!!

----THE NEWS WE'VE ALL BEEN WAITING FOR----

Doggie U has been approved to host
CPE and ALL LEVELS of AKC Agility Trials
at our new facility
1515D Fifth Industrial Court, Bay Shore NY 11716

As it is very exciting, this is only one of many challenges ahead of us on our journey forward. We want to thank everyone for your patience and continued support to help make this new chapter of Doggie U a success. Rolissa & Ginny
---
Wednesday October 1, 2014 Rolissa and Ginny are happy to announce:
Doggie U appreciates your patience, understanding, and support since our roof collapse in August. We are happy to announce that our new location is scheduled to be up and running by October 17. We are still in Bay Shore but will now be located just off Southern State Parkway at
1515D Fifth Industrial Court, Bay Shore NY 11706
Our building is still in the construction phase and is not open to the public. We hope that you can understand our desire not to distract the workers from completing their work. Our phone number and email remains the same. It's an exciting time but we still have many challenges ahead of us. We are counting on your continued support to help make this new chapter of Doggie U a success.
We have many events scheduled including our Weight Pull Seminar and Trial on Oct 18 and 19. Newsday is coming on Sunday to cover Long Island's first Weight Pull competition. Also scheduled for December 6 is our tricks seminar with Karen Profenna. Our upcoming agility events include Diane Goodspeed seminar on November 1 and Teacup trials on November 16 and December 7. We will also be hosting many other events sponsored by Long Island's outstanding dog clubs. We look forward to seeing you and your friends at these events.
More information about these events can be found on our website
Friday September 19, 2014
Fellow members , family and friends we have been faced with many
challenges
since the damage to
Doggie
U. It has now been a little over a month since the storm, and we have made incredible strides thanks in large part to you and the outpouring of support we have received. I am excited to share some news with you, and that is that we have secured a new location and will be moving in on Oct 17, 2014. We are looking forward to welcoming each of you to the New
Doggie
U, your home. Your support has been invaluable in making this move happen.
We made this decision after careful evaluation and professional assessment, that the current location is no longer tenable for our purposes, and the safety of our four legged family members is one of
Doggie
U's
top priorities.
We have gotten over the first mound, are excited to start the climb up the hill we are confident that with your continued and generous support we shall reach the top.
We envision bigger and better things for
Doggie
U and are glad you are a part of the
Doggie
U family and team.
Rolissa
Doggie U Update Sunday September 14, 2014
We want to thank everyone for their continued support of Doggie U and our endeavors to re-build as quickly as possible.
As of today, the building is empty and ready for construction. We are also covering all options to service everyone in a timely manner. As such we have arranged to conduct our puppy, beginner class and existing agility classes at outside sites.
We do have several fund raiser campaigns in place to assist with the rebuild efforts. Please visit these sites for more information and share them with other Dog Lovers you may know.
Go Fund Me: gofundme.com/d57cb8
TeeSpring: teespring.com/doggieuk9
Again, We Thank You All for Your Support and we will keep you apprised of our progress.
---
To all Doggy U family and friends:
As each of you are aware our community experienced a storm that produced record rainfall of over 14 inches in a 12 hour period. A number of residents and businesses have been affected by this and suffered loss, and unfortunately Doggie U was not spared. Our building suffered major damage, but the process is already underway to move forward in getting Doggie U rebuilt and running, thanks to our wonderful members, friends and caring dog community near and far.
In the meantime, we are working to set up temporary space. I want each of you to know that Doggie U will continue, and while we have some work ahead of us, we are continuing to move forward with our plans.
I am thankful that no one was injured, and that our losses are confined to things that can be fixed or replaced. As soon as the complete assessment is done I'll provide an update.
Thank you to my partner Ginny, team members: Teri, Louise, Judy, Alex, Yolanda, Merrilee, Debbie, Diana, Paula who have stepped in and offered invaluable assistance, and others of you who've volunteered to help. The list is large.

Additionally, I am deeply appreciative to the entire dog community that is continuing to help. Words cannot express how I feel about all of you and the friendship and support you've shown.
Warmest regards,
Rolissa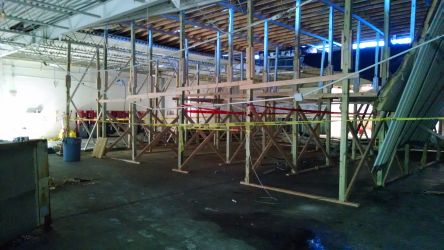 ---

Our Phone Number 631-968-7972
****Effective January 1st, all rentals must be booked 3 days before
with payment and NO refunds if canceled***
Call Doggie U 631-968-7972 to book your time and pay with a credit card
---
Art Weisser and Nellie received their TACH at the Doggie U Teacup Trial on August 3, 2014. Our judge was Joyce Yaccarino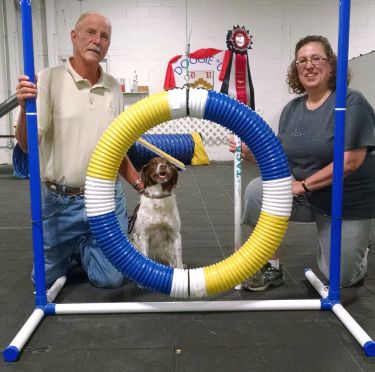 ---
Doggie U goes to the All Star Obedience Championships August 2-3, 2014 in York Pennsylvania. We wish them luck and good runs!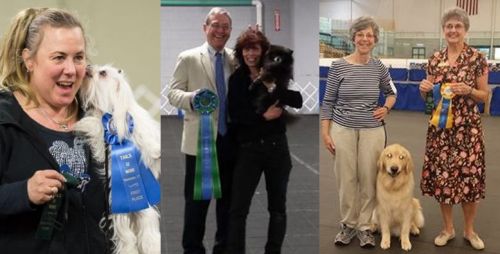 Leslie Sweet-Berkowitz and Moxie Maltese
Deb Masino (Doggie U Obedience Instructor) and Bounce, Pomeranian
Sue Auman Levine and Max, Golden Retriever
---
At the DACLI CPE trial Kathleen Dougherty's Finnegan (Piccadil's Jump Jive & Wail) handled by her grandson Aidan made their CPE debut. They qualified in both with 1st places and now have earned their CL1-H title. Doggie U is very proud of our Juniors! Thank you Lisa Lucas for your patience and help. Thank you all for your support of Aidan. The cheers that went up when they finished were wonderful.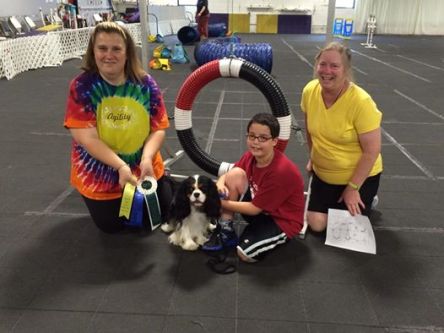 Pictured left to right: Lisa Lucius, Finnegan, Aiden and Teri
A few of the Doggie U members that excel in CPE Agility!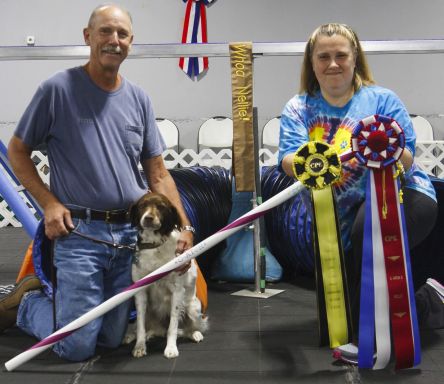 Art Weisser and Nellie, got their C-ATCH #3 at the DACLI
Agility Trial held at Doggie U, July 2014
Judge Lisa Lucius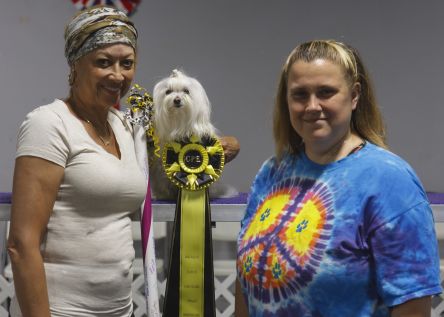 Yolando Russel and Bitsy achieved their C-ATCH at the DACLI trial also
Judge Lisa Lucius
---

A big thank you to all of the competitors at the December 2013 Doggie U
CPE Agility Trial for your generous donations to the Town of Babylon
Animal Shelter in honor of Clancy. — with Ginny Anziani.


Thank you all for voting!

Rolissa would like to thank everyone for their Get Well wishes.
Your kind thoughts were greatly appreciated.
---
Doggie U TV Commercial. Click here to view the video!!!!!
Perhaps you and your dog will be on the screen!
---
Doggie U is a state of the art Canine Training Facility for Long Island 13,000 sq ft,
fully matted facility with anti-grip and impact footing matting, see our facility photos page.
We offer classes in: Puppy Kindergarten, Puppy Agility, Pet Obedience,
Competition Obedience, Breed Handling, and Rally classes are on our
Training Class page Agility Class Schedule page,
Our instructors are well experienced in their fields and enjoy working with all
people and dogs.
See our instructor bio page.
Dog showing and training events are always on-going at our facility.
We offer agility, obedience, rally and conformation match shows. CGC and TDI tests are periodically scheduled. We also have informational seminars on training, behavior
and many other dog related subjects. Doggie U is providing a full slate of events
for you and your dog no matter what your focus is. See the Upcoming Events page
for info on these events.
Rental Space available on a daily, weekly, monthly or special event basis to clubs,
trainers, students or individuals see Ring Rental page.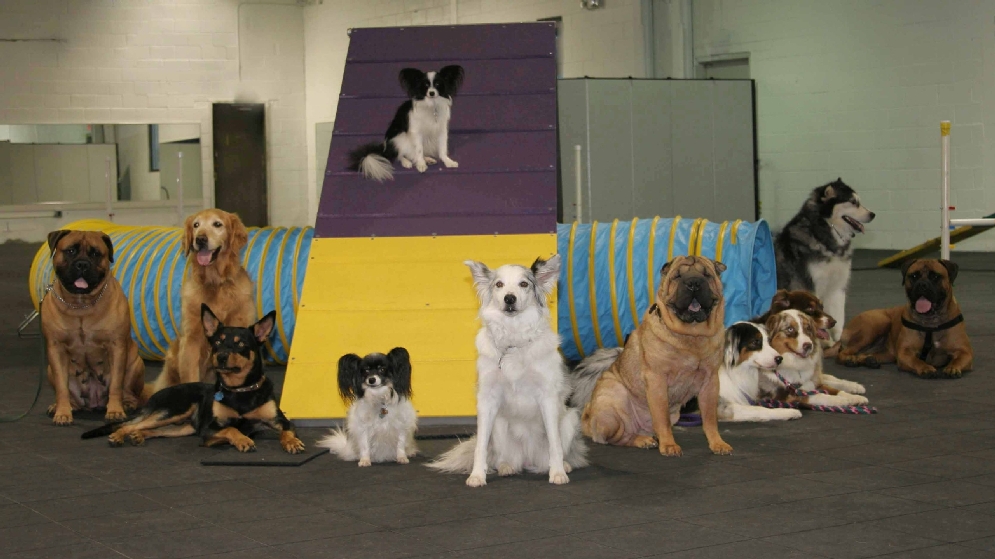 Discounted Dog Food and Supplies are sold in
our store. We have Vets Choice food, dry and
canned, supplements, treats, training supplies,
collars, leashes for sale.
Visit our Store Page for more information.
Grooming is currently not available.
Check for Groomer availability in the future.
Space Available for Shows, Special Events and
Match Shows. Our facility is also available for non-doggy events.
Call Doggie U for more information
631-968-7972.
---
Directions:
From New York City: Southern State Pkwy East
Exit 42N North Fifth Avenue, left on to Spur Drive North,
Right on Fifth Industrial Court, building is on left 1515D
From Riverhead: Sunrise Highway Rt27W to exit 46,
Southern State Pkwy West, Exit 42N North Fifth Avenue,
left on to Spur Drive North
Right on Fifth Industrial Court, building is on left 1515D